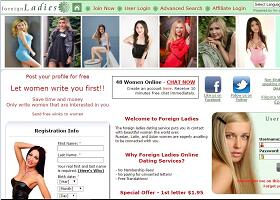 Star Ratings of Foreign Ladies:
Chance of getting a date ★★✩✩✩
Protect privacy ★★✩✩✩
Features ★★✩✩✩
Customer service ★★✩✩✩
Value for money ★★✩✩✩
ForeignLadies.com is a well organized mail order bride service that can match you up with women from all over the world. It is also a full service online dating site committed to helping you establish a serious relationship with either a Russian/Ukrainian lady, a Latin American lady, or a Asian lady. They provide essential foreign dating services to assist you in every step of your relationship.
Features
Well run mail order bride web site offering tours to many different areas.
Specializes in women from all over the world.
Post your profile and send winks for free.
Save your searches to run them again later.
Videos on lots of the ladies' profiles.
Go on tours to meet hundreds of women at once.
Choose from tours to meet Asian, Russian or Latin women.
See when your girl has a birthday coming up so you can surprise her.
Send a variety of gifts to your favourite lady.
Send messages to as many women as you want.
Phone translation service available to help you start chatting.
Basic membership is completely free.
Cost
Credits
10 for $7.50
20 for $15.00
40 for $30.00
80 for $60.00
120 for $90.00
160 for $120.00
240 for $180.00
320 for $240.00
760 for $495.00
1500 for $990.00
10 credits = one letter
Get bonus credit towards a future tour with every purchase
Tours: 7 nights from $1395.00
Phone translation: $5.99 per minute
Get in Contact with a Foreign Lady!
Customer Service – Contact Customer Service if you have a question about Foreign Ladies.
Top 10, Top 100 Profiles – View our most popular ladies.
Birthday Girls – Ladies celebrating their birthday this week. Wish her a happy birthday.
Send a Gift – Great selection of flowers, candy and specialty items she is sure to love.
Call Her – 3 way calling with translator assistance.
Meet Her – 3 options to meet your special lady.
Site Value – What makes us stand out among other dating sites.
F.A.Q. – Got a question? Find the answer here!
2nd look – Give these ladies a 2nd look. Profiles with updated photos.
Banner Marketing – Market Foreign Ladies on your website.
Bachelors Abroad – Review of the NatGeo Show Bachelors Abroad.
Verdict
ForeignLadies.com does a good job of offering a wide range of tours to allow you to meet a potential bride in their home town. All the things you need to start getting in touch are in place, but the area ForeignLadies really excels in is in organizing tours abroad to meet someone for real. Prices for these seem fairly reasonable for the service on offer and so they think you could do a lot worse than sign up for a free membership. If you are happy to spend the money though, they think you will find a good service here to help you all the way through finding a foreign bride.