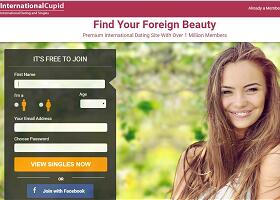 Star Ratings of International Cupid:
Chance of getting a date ★ ★ ★ ★ ★
Protect privacy ★ ★ ★ ★ ★
Features ★ ★ ★ ★ ★ ✩
Customer service ★ ★ ★ ★
Value for money ★ ★ ★ ★ ★
International Cupid is a popular place for those who are into foreign dating and have prospects for marriages with foreigners. It previously known as Myforeignbride.com, which is specialist marriage and matchmaking website that assists marriage minded ladies to find their perfect match anywhere in the world. This website was started in 2004 and designed to be used by members of all cultures and language. That is why when chatting or emailing, everything can be translated to a specific language. This helps cross barriers that was not possible before and find a lasting love.
Features
Once you sign-up as a free standard member you may post your own profile and pictures (which the women on the site can browse), view profiles in their entirety and perform advanced searches
Add women to your favorites list
"Show interest" in another woman – this is like winking at them
Free standard members may REPLY to any emails they receive, but may not initiate contact
Access the chat rooms (Gold/Platinum members only)
Access video messages (Platinum members only)
Online dating tips and advice given
Excellent technical support.
Standard membership includes the following features:
Basic matching
Send interest
Communicate with paying members
Gold membership offers all of the above plus:
Communicate with free members
No ads
Hide your profile / photos
Initiate instant messaging (text only)
Platinum membership offers all the above features plus:
Initiate instant messaging (text and video)
Advanced matching
Translate messages into your language
Add notes to a profile
Highlight your profile
Double your profile space
Cost
Browse the site for free as a standard member, but in order to view profiles in full and contact other members you must sign-up for gold or platinum membership (more on this below).
Gold membership prices:
1 month: $29.98
3 months: $59.99 ($20.00 per month, save 33%)
6 months: $99.98 ($16.66 per month, save 50%)
12 months: $119.98 ($10.00 per month, save 67%)
Platinum membership prices:
1 month: $34.99
3 months: $69.98 ($23.33 per month, save 33%)
6 months: $119.98 ($20.00 per month, save 50%)
12 months:$149.99 ($12.50 per month, save 67%)
Payments can be made using credit, debit, charge and check cards, paypal, a bank check or money order by postal mail.
Verdict
InternationalCupid.com is a popular foreign dating and personals site that can help those looking for a romantic relationship with someone living abroad. It was once known as Myforeignbride.com is aimed at marriage minded people. It serves as a cross-cultural meeting place – known for bringing together women from Eastern Europe, Asia and South America with men from Western nations. While InternationalCupid.com may not be the best site in terms of specialized international marriage services, it's definitely a great place to get your feet wet.
Click Here to Visit International Cupid » or « Back to Homepage