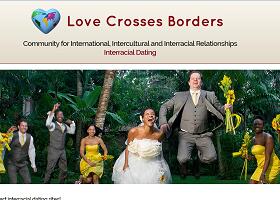 Star Ratings of Love Crosses Borders:
Chance of getting a date ★★★★ ✩
Protect privacy ★★★★★
Features ★★★★ ✩
Customer service ★★★★ ★
Value for money ★★★★★
Love Crosses Borders is a cool and interesting interracial dating site for singles who would like to date or make friends with other interracial singles. This interracial dating site over the years has connected a lot of singles who really want to cross boarders to get someone they love, not minding their racial differences. It is specifically dedicated on international and intercultural relationships, friendship, dating and subsequently on interracial and mixed marriages. So if you are looking for interracial singles on a global platform or want to try out mixed relationships, Love Crosses Borders is just perfect for that.
Features
Basic features
You can send and receive private messages.
You will enjoy unlimited email access.
You can view profiles and access uploaded pictures of other members.
You can view people that are online, make local searches and enjoy a profile-based matching system.
Special features
You can receive alerts each time new members join the site.
You can block and report suspected members with suspicious activities.
You can send and receive virtual gifts from members.
Cost
The basic membership is absolutely free of charge. The subscription rates that are applicable for upgrading to silver and gold membership are as follows:
Silver Membership
1 month's Silver membership costs $19.90.
3 months' Silver membership costs $51.00.
6 months' Silver membership costs $84.00.
12 months' Silver membership costs $96.00.
Gold Membership
1 month's Gold membership costs $30.
3 months' Gold membership costs $81.
6 months' Gold membership costs $144.
12 months' Gold membership costs$218.
Payments can be made using credit, debit, charge and check cards, paypal, a bank check or money order by postal mail.
Verdict
LoveCrossesBorders.com is an online dating site and community has succeeded in connecting interracial singles with one another on the internet over the years and it has earned itself good testimonies from members who have tried it out. It focuses specifically on international and inter-cultural friendship, mixed race relationships and marriages to show that interracial relationships are no different than the ones between same races. And it continues to try to provide support to people from all over the world seeking international friendships and interracial love. It's definitely a great option if you want to try out foreign dating.
Click Here to Visit Love Crosses Borders » or « Back to Homepage